Queen Street West Mural Project:
Finished Project & Rationale
Concept Idea, Casting & Designed by: Christiano De Araujo
Project Manager, Art Director & Painted by: Christiano De Araujo
Digital Painting by: Natasha Dichpan
Production Assistants: Aline Setton, Ksenia Sapunkova & Thomas Mallerman
This art piece welcomes and celebrates the eclectic spirit of Queen West, bright and vibrant as the life of the street itself. Over the past twenty-five years, Queen Street West has become an international arts center and a major tourist attraction in Toronto. Queen West is truly a beautiful medley of different cultures and people!
The mural shows Queen Street West as a hub of style, fashion, music and art. It depicts iconic images representing the culture, history and vibe of Queen Street West.
A Queen With Two Sides

The design portrays Marie Poliak as a central Queen Figure representing two
different facets of the street. The right side is a cool, punk, rock 'n' roll, grunge, gothic persona and the left side is the chic, cutting-edge fashion, upscale, expensive and sophisticated reincarnation. This main figure captures the spirit and culture that Queen West is known for. It is the brand and focal point of the street.
Exploring The Richness Shaping Queen West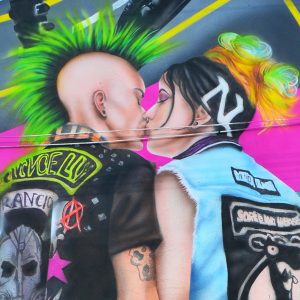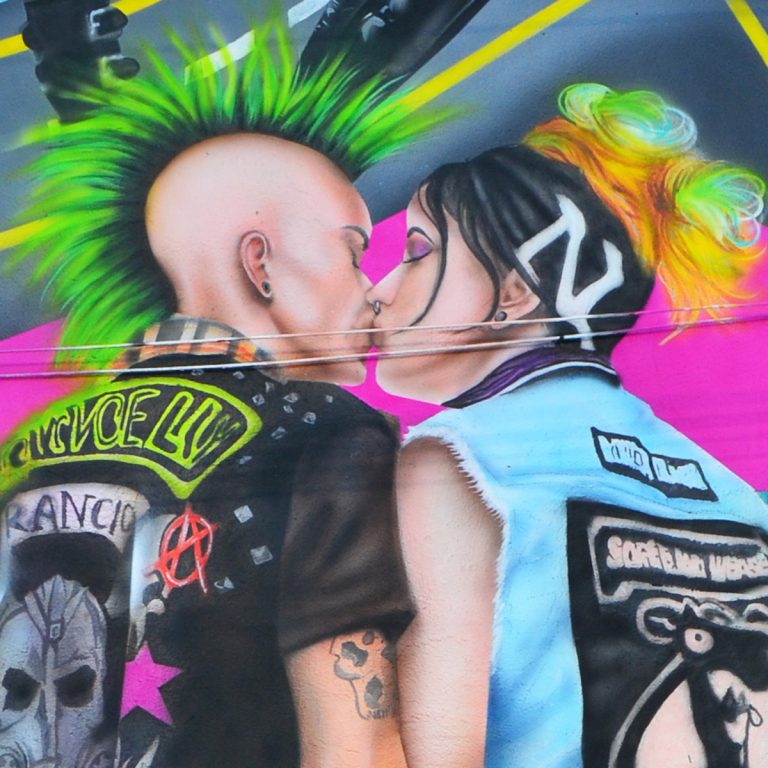 The mural explores all the richness that shapes what Queen West is today with the distinctive and typical style, form, character and personality that the street developed over the years. The people, tribes, trends, punks, goth/new wave movements, live music, bands, visual art, fashion, graffiti art, hip hop, B-boy dancers, busker musicians, street artists, magicians and performers are all represented.
Symbolism of The Queen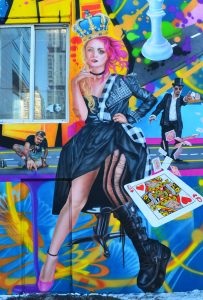 The chess piece known as the Queen metaphorically expresses the essential role of the street in the city, symbolizing a powerful and valuable part of Toronto that should be celebrated and protected. In addition the Queen of Hearts playing card is used to represent love, women, compassion, emotion, feelings, affection, desire, passion, magnetism and idealism. The Queen of Hearts herself signifies the beloved mother, the sister, the daughter and appreciation of art and beauty.
The characters and artists are: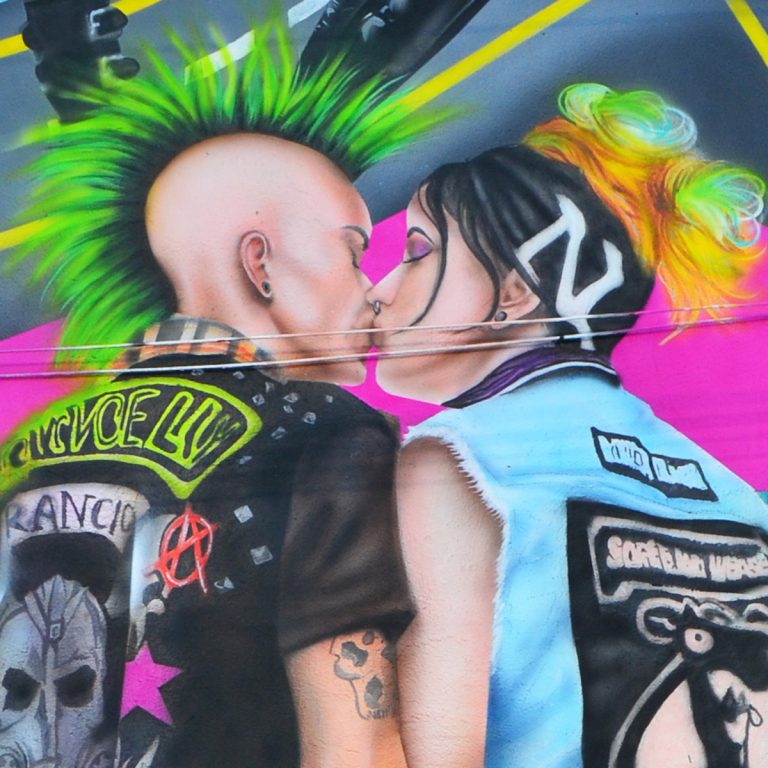 Kenny Reynolds and Laura Chrobak